Winery
The winery is equipped to produce 11.000 liters of traditionally-made wine, using Grandpa Manuel's manual press, a Bertolaso wine-corking machine from the 60s and concrete wine tanks. We have learned to produce wine in a city with all the limitations. Our waste production, as well as the air and noise pollution, are kept to a minimum. Electricity consumption, water, and sanitation must be hyper-efficient.
We work for the urban winery to facilitate the access to our wines and connect us with the neighbors.
We work for those who thrive on the magic of simplicity and discover perfection in each detail. To appreciate these "gifts of nature" a ritual born from serenity as a way of life is necessary. For those who take pleasure in gastronomy, they will find in these wines an excursion to a world of sensations.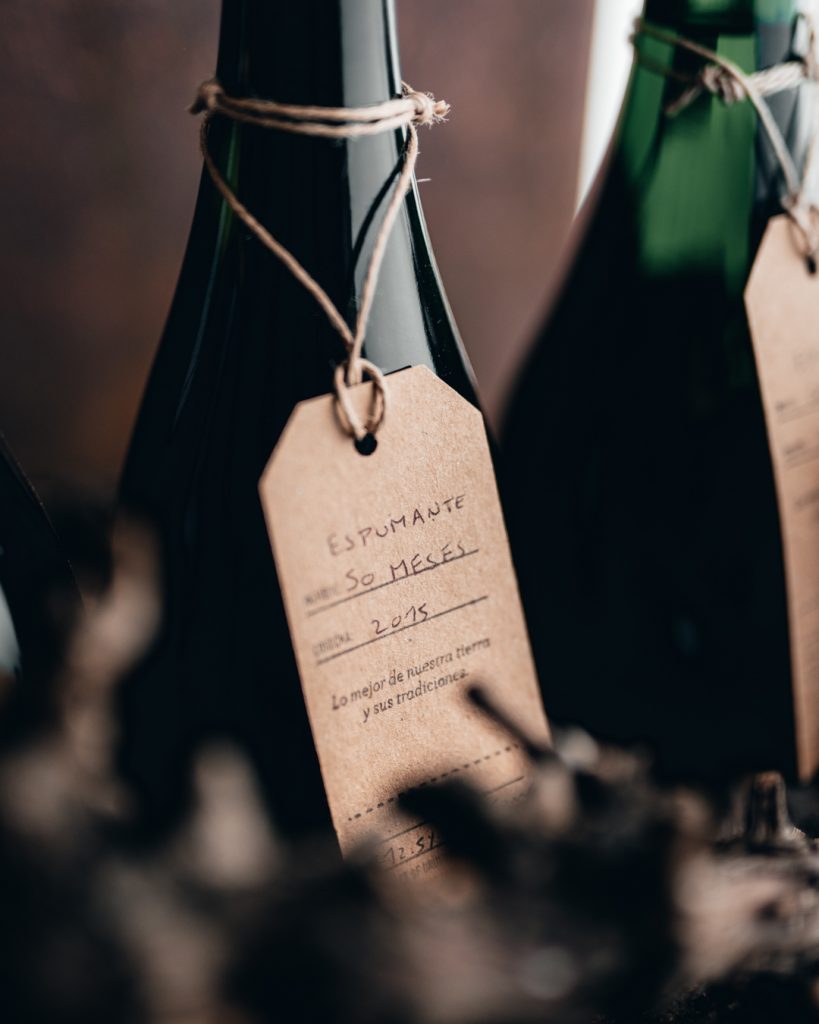 How do we commercialize?
Directly to the public and straight to the final consumer. We want to meet our customers and establish a connection, in Uruguay, as well as abroad.
Uruguay
At the Urban Winery, there is a wine warehouse where you can always discover something new. Come, between 8:30 and 16:30 or simply let us know outside that time frame and we will look forward to meeting you.
We also deliver on Wednesdays and Fridays in Montevideo, from Punta Gorda to the West and on Thursdays, from Punta Gorda to the East. To areas outside the capital city, we deliver through DAC. We require at least a day in advance.
We invite acquaintances to visit the Online Store
We meticulously select those who represent us.
We are found in places where our passion and philosophy are shared, and where the story behind each bottle is told You can find us exclusively at:
Montevideo:
Es Mercat was the first place to put their trust in us, where Roberto, Lili and Facundo will treat you like home. There, you will find a gathering of parishioners and foreign residents, and visitors. A classic spot at Montevideo's Ciudad Vieja.
Baco has the most demanding wine list in Montevideo. Under the guidance of Sophie and Matías, the entire staff at Baco is a pleasure to meet. Gastronomy is carefully curated, it is a brightly illuminated place that also has the vast advantage of being always open, 365 days a year, from noon to midnight. Located in Punta Carretas, half a block away from the promenade. http://bacobistro.com/
Verne, a designer restaurant of urban industrial style, located near the eastern outskirts of Montevideo and managed by a group of affectionate people. Fine dining, signature cocktails and a café. An excellent symmetry between warmth, design, gastronomy and nature, situated on the promenade at the very entrance of Ciudad de la Costa. https://www.vernerestaurante.com.uy/
Vinbutik, a place where Julio González, a friend, will guide you through Spanish culture and its wines, and at special request, some Uruguayan wines too. Knock on his door on our behalf, and he will wholeheartedly welcome you in. Located in Pocitos https://www.vinbutik.uy/
Montevideo Wine Experience. Across Es Mercat, Nicolás, its owner, will give you a taste of the different Uruguayan wineries. The duo Es Mercat-MWE is unbeatable.
Teluria, in the basements of the library Puro Verso lies a little secret. Located in El Centro de Montevideo, Juan, its owner, is a meticulous, perfectionist person, who loves what he does. http://www.teluria.com.uy/nosotros.html
Del Campo. Tomás and Gastón will marvelously attend you at their Gourmet Butcher Shop. If you are thinking of preparing a barbecue over the weekend, this is the place to go. They also offer a selection of wines. Located in Parque Rodó.  Parque Rodó.
Alquimista, Hotel Bistró, A restaurant with accommodations located at a house built in 1923, in the suburb of Carrasco. Home cooked meals of the highest quality, using the very best seasonal local products. www.alquimistamontevideo.com
Puerta de Hierro, Wine and Italian-style Gourmet Food Store, in Carrasco.
Instagram: @puertadahierrowines_uruguay
Arazá Bistró, Cocina Nativa. Avenida Agraciada 3789. Phone: 099003265
Maldonado:
Kraken. Overlooking the Río de la Plata estuary water, an excellent pasta restaurant takes place. Located in Punta Fría, Piriápolis https://m.facebook.com/KRAKENRestaurante
Salón #3. This hidden gem is located, and perfectly decorated, within an antique store. The majority of its clientele are locals who repeat their visit over and over again. Gonzalo in the kitchen and Paola in the dining room, will make you feel at home through their care and professionalism. It is one of those secluded well-kept secrets where the quality: price correlation is incredible. https://guruguay.com/salon-no-3-la-barra-restaurant/
Proveeduría. Catalina and Juan will open their doors to a world of local products, carefully selected with professionalism. It is an ideal place to fill oneself with nature, wisdom, and health, presented through dishes. Manantiales.
Japón:
A life story connects us with this delicate and refined culture. We export, looking forward to finding through wine, the link that would allow us to travel annually, fostering a sense of belonging to Japanese culture. We have found in Japan a tradition of hard work, order, and respect that might balance out our free and effusive Latin-American nature. The perfectionist Japanese market compels us to persistently improve our work efforts. Our main objective is that our family interacts with Japan, gathering every positive aspect of their culture.
In order to obtain our wines in Japan, you need to contact Townie, our importer. https://www.towineclub.com/ 

Australia:
Our friends Dave and Michelle were the first to introduce Tannat and Malbec in Australia. We have forged with them a strong friendship that goes beyond wine. They have even traveled to Uruguay to produce wine with us. https://www.captainsoftrade.com.au/